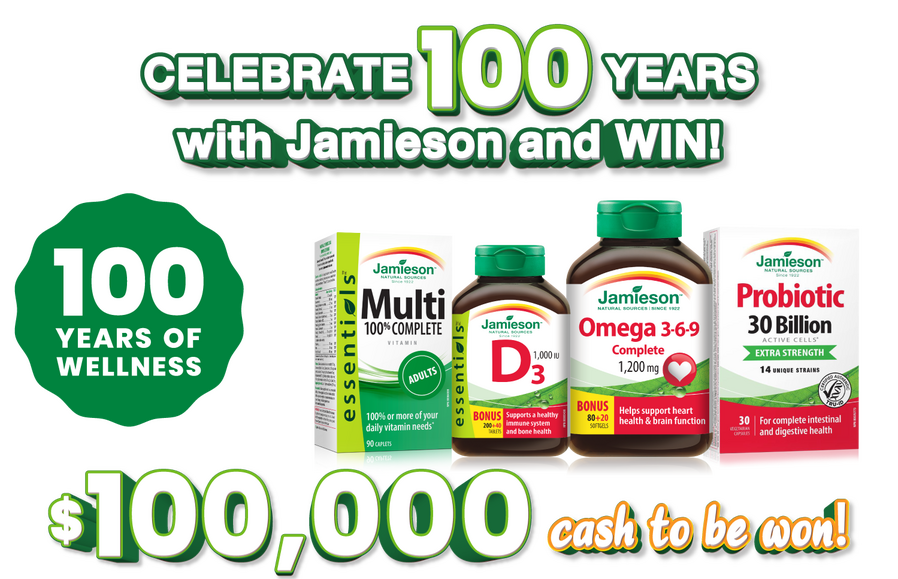 Celebrate 100 years with Jamieson and Win!
Up to $100,000 in Cash to be Won!
Purchase $100 and over of Jamieson products for your chance to win the weekly prize of $10,000 cash
Promotion runs from 2nd May – 8th July, 2022
no spaces
Note: The email address field must not contain spaces.
The Celebrate 100 years with Jamieson promotion begins on the May, 2022 and ends July, 2022.

Participants must make a purchase of $100 or more in Jamieson products at any Pharmacy or supermarket throughout the duration of the contest to be eligible to win a prize.

The winners will be selected weekly by random draw.

The contest is open to all customers who are residents of Trinidad and Tobago.

Participants may enter as many times as they wish but only one entry can be made per qualifying purchase.

The winners will be contacted by a representative of Ultrapharm Limited via phone call.
The prizes will be presented to the winners on a date to be determined by Ultrapharm Limited. Winners' names and/or photographs may be used for advertising purposes.

The selected winners, if they entered digitally, must retain and present their proof of purchase to claim their prize.

The prizes are non-transferable.

The prize draw to select the winners of the Celebrate 100 Years with Jamieson contest is final.

Ultrapharm Limited reserves the right to modify or cancel the contest without notice at any time.

Employees of Ultrapharm Limited their advertising agencies, their sponsors and immediate families are not eligible to enter the contest.